Constant-Level Oiler Installation and Maintenance Tips to Extend Motor Bearing Service Life

Constant-level oilers, externally attached to motor housings, are critically important devices that provide a steady flow of oil to bearings inside the motor.
A constant-level oiler unit has three basic components:
An external reservoir, usually made of glass, which is filled with oil at regular maintenance intervals;

A lower housing, where oil from the reservoir is kept at a constant level, and

A feed line, which delivers the oil to a chamber inside the motor, up to a level sufficient to cover the lower portion of the motor bearing
Keeping these oilers properly filled, along with ongoing inspection and maintenance, significantly extends bearing life. According to oiler system manufacturer Trico Corp., citing a study by bearing manufacturer SKF, over 50% of all bearing failures are caused by improper lubrication.
Types of constant-level oilers: Oiler units come in two variations, open and closed:
Open (vented) units have an external air exchange tube at the top of the motor to equalize pressure during motor operation;

Closed systems utilize a pressure balancing line attached to a check valve and desiccant filter at the top of the motor to allow for exchange of clean, dry air in the motor housing, and their sealed design eliminates the possibility of dust, grit, and other materials entering the motor housing to contaminate the oil and bearing inside the unit
According to Trico Corporation, by significantly reducing contamination, use of a closed oiler can extend motor bearing life by as much as 40%.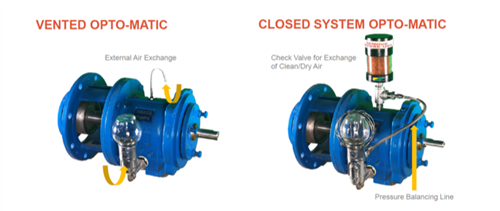 Constant-level oiler types (Credit: Trico Corp.)
Here at Red Stick, we see many motors arrive in our shop for rebuilds caused by insufficient lubrication to motor bearings and improper oiler maintenance—and sometimes even failure to keep these units sufficiently filled with oil in the first place. This is unfortunate, because if properly lubricated, sleeve bearings used in electric motors can last up to 20 years.
Correct oiler installation is the first step to insuring trouble-free motor lubrication. Follow these steps when installing a new constant-level oiler:
Check motor location: The oiler must be installed on the correct side of the motor relative to its shaft rotation (see illustration below);

Check height of oiler housing: The height of the unit is critical, and must be properly aligned on the side of the motor to properly feed oil into the housing and maintain the correct oil level inside the motor (see illustration below);

Secure all lines to motor housing: Keep all piping connections to the motor as short as possible, and rigidly affixed to the motor housing prevent vibration;

Keep the oiler unit level to allow for a proper, regulated air flow;

Insure proper venting: Venting is also important, to equalize the pressure between the lubricator's lower chamber and the air space inside the motor housing. For this purpose, a 1/8" NPT female air vent is attached to the lower chamber, which maintains an accurate oil level within the oiler when pressure or vacuum is generated inside the motor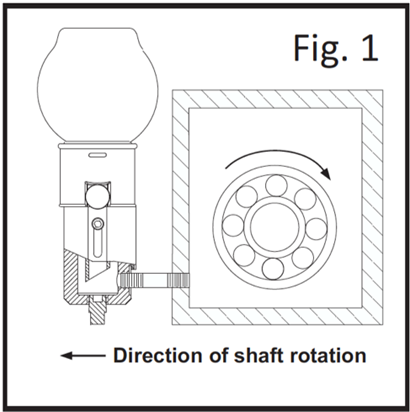 Correct oiler installation (Credit: Trico Corporation.)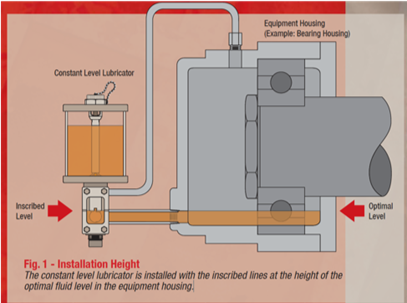 Correct installation height (Credit: Oil-Rite Corporation.)
Proper ongoing maintenance and inspection are also critical for insuring proper oiler operation for sufficient motor lubrication:
Check fill levels in the oiler's sight glass and add new oil to the oiler reservoir as needed during regular maintenance intervals;

Inspect oil feed lines and vent tubes for contamination or blockages, keeping these clear at all times;

Check all oiler reservoir gaskets for leaks and replace as needed;

Keep the oiler's vent line free of fluid or debris to prevent oil blockage in the lower chamber;

Inspect oiler glass globes and réservoirs for cracks and/or leakage
Making constant-level oiler maintenance a consistent part of your plant service procedures will significantly extend the service life of all your motor stock, and can virtually eliminate unexpected bearing failure due to lack of lubrication.