Three Critical Steps When Addressing Storm and Flood Damaged Electric Motors

In the aftermath of major storm-caused flooding to coastal and inland plant facilities, the impact of salt water, mud, and moisture can be devastating to the many different types of sizes of electric motors used in your plant.
When this happens, fast decisions must be made to get the remediation project underway and to minimize costly plant downtime.
Below are the three critical "first steps" to take if or when this ever happens to you.
Step One: Assess Flood Damage to All Plant Motors
Determine maximum flood water level.  The first step in motor damage assessment is to determine the maximum flooding water level reached in your plant, by findng the water line along the interior walls. These locations include the insides of cabinets, outdoor storage lockers, or inner walls of the plant. These levels indicate the height of water flooding and are a guide for determining which motors have been affected by water in your plant.
Inventory all damaged motors.  Take inventory of the location, motor name, and all nameplate data for each flood-damaged motor. Also make note of the lubrication system used on these motors, if applicable.
Step Two: Make Fast Repair and Replacement Decisions
Once the initial assessment is complete, make your repair or replacement decision on each motor:
All T-frame motors subjected to salt water intrusion should be replaced. The repair cost and downtime make motor replacement the most efficient path to resume plant production.

 

Making early replacement decisions gives you the best chance of getting access to inventory from your motor distributor (see sidebar);
Motors with special features, such as U frames or P bases, and motors with shaft extensions where replacement would be difficult or time-consuming, should undergo desalinization procedures;
For older, less energy-efficient motors, replacement with energy efficient EPAct or NEMA Premium® units can save substantial energy costs;
Above NEMA motors can often undergo desalinization procedures on-site in the plant facility, following the procedures outlined below
Step Three: Implement Water Damage Remediation Procedures
Carefully inspect and test internal assemblies of larger motors to determine whether or not these components have been damaged by wind or rain.
Water damage to motors and generators is often greater than the obvious signs of rusted output shafts, fouled bearings, and contaminated lubricants. The presence of salt water significantly worsens these problems unless it is completely flushed from all motor components before it dries, and residual salt will rust out the steel laminations of stator and rotor cores, increasing downtime.
Additionally, salt water residue will corrode copper windings and copper or aluminum rotor cages. This hidden damage results in premature motor failure and additional future downtime for every affected motor, unless the proper steps are taken immediately after the flood to put each motor through a complete desalinization process.
Salt water motor contamination requires special desalinization and cleaning procedures. Some of these can be performed on-site, and others should be performed by an experienced electric motor repair facility. Once the initial damage assessment is made, decisions on which motors to remediate on-site, vs. which motors to send to the facility, must be made.
Want to Learn More?
Because this is such a critical issue for our customers, we've created a free six-page "Electric Flood Damage and Motor Repair Guide".  In it you will find additional timely information on:
Quickly assessing flood damage to all plant motors
Making fast repair and replacement decisions
Implementing water damage remediation procedures
Implementing salt water flush procedures
Staffing considerations, and more…
You can get it here.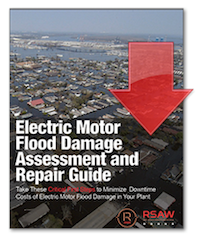 Need to Repair or Replace?
If you have a flood or water-damaged motor in need of repair or replacement, call (800) 895-0443 or Contact Us, and one of our experienced technician will be in contact with you.