Industrial Electric Motor Maintenance Inspection Tips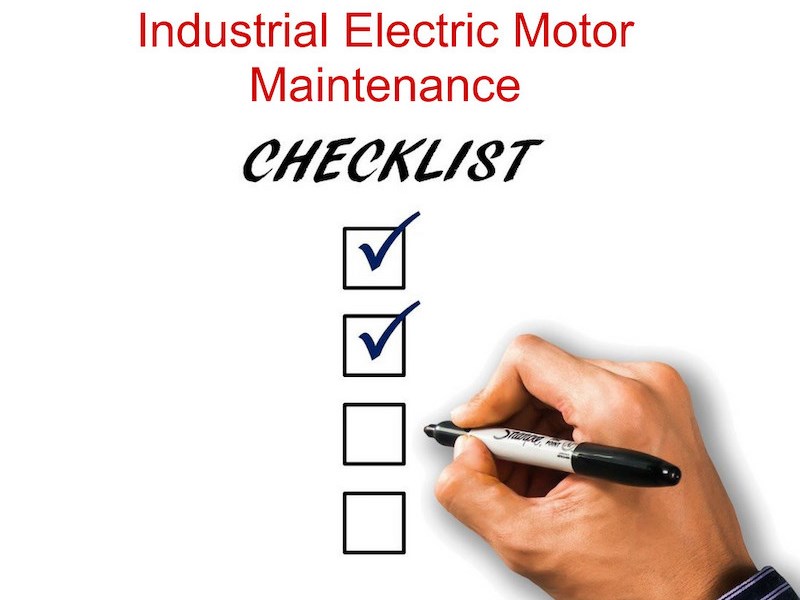 With a reasonably small cost of inspection and maintenance, your industrial electric motors can last for years.  The following is a list of some recommended tips to help ensure reliability of operations and prevent failures over the life of your motor.
15 Recommended Inspection and Maintenance Tips
Have your shift operators be on the lookout for any abnormal motor noise, unusual smells, and general cleanliness issues. They should also regularly check the lubrication for grease quantity and color.
If any cleanliness issues are identified, clean off dirt, dust, and unwanted material using clean cloths, brushes, and blowers.

Examine the starter switch, fuses and tighten loose connections.

Inspect for proper ventilation, power supply quality, and proper functioning of the MCC panel display meters.
Regularly inspect bearing house temperatures.
Also measure motor temperature levels of electrical joints and connections, the motor body surface, and cable joints.
Check direct measurements at the MCC and motor junction boxes.

Check and replace brushes that are more than half worn.

Periodically perform vibration monitoring at the bearing houses to ensure that they are staying within acceptable limits.
Also perform a vibration analysis to look for problems such as unbalance, mis-alignment, bad bearings, and more.
Check operating speeds and brush pressure and position.
Do shock pulse monitoring to look for bad or damaged bearings.
Test insulation and current inputs.
Inspect armature bands and clean our magnetic dirt.
Perform a motor current signature analysis to look for any insulation degradation, rotor bar cracks, and problems in end-ring joints in the rotor.
Interested in a formal inspection of your industrial electric motors?
RSAW's field service testing includes vibration testing, dynamometer testing, thermography capability (hot spots), testing for thermal protectors and similar devices, winding resistance, meg-ohm-DC resistance, polarization index, High potential (Hipot), surge, Motor Circuit Evaluation (MCE) and more.  Our teams are available 24/7/365 to support your needs.  Give us a call at 800-895-0443 or Contact Us today to schedule an appointment.